Just a quick post today. I'm ultra extra super busy doing my OMG hand-flapping excited dance at having some impressive types following on Twitter.
I couldn't wait to tell Hubby that I had the wife of an NBA basketballer following me (who is a TV host in her own right). He wasn't overly impressed by that. But as soon as I mention Ben Elton following me - he's all giggly and girly (and joining in the hand-flapping dance) because he has a slight (mega) Man-crush on him. Hubby would watch Black Adder and The Young Ones 24/7 - it is the only thing that could possibly give sports any competition for his time/TV viewing (they are one and the same thing for him) in our home.
So - back to the reason for my post -
I recently came across a fantastic site for swapping/re-selling/buying toys. It's free to use, and gives you the opportunity to try and keep your kids challenged/entertained/occupied (or in my case out of the fridge/pantry/power points/toilet) without having to buy every single toy brand new, foregoing food and electricity to afford the ever-changing trends in toys.
With impressive Game Show Hostess hand flourishes to your right....I ask you to please take a moment to check out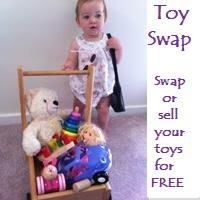 Just so we're clear - this is not a paid post. I'm simply all for options to save money while still making sure your kids have everything they could possibly need. I can't tell you how many times I've been to or held a garage sale without much interest in kids toys. What a great way for Aussie parents to bypass having to trawl through masses of Ebay and Gumtree listings to find specific kids items.
So please support this site, because it's run by a lovely Aussie Mummy, and also because I am going to log on and post any of my toys that have not been chewed up and/or tortured by Miss2! I have a hankering for another holiday and an updated coffee machine (my 2 great loves), and something has to fund these things...