The first clue that things weren't going to be quite so romantic should have come when I had suggested to #1Hubby that the 15th anniversary was big blinging diamonds - and he laughed his ass off and said he was pretty sure it was whitegoods.
I didn't have long to wallow in a pit of loathing and concoct some form of epic punishment in return for his audacity and cheek, as Bing Lee came to my rescue the following week.
Here begins the tale of how

Bing Lee

entered my marriage and forever changed it, for the better...
I was gifted a sizable whitegoods item, which I, in turn, gave to #1Hubby wishing him a belated Happy 15th Whitegoods Wedding Anniversary.
Now, many would assume that it's at this point that things got ugly.
Instead, #1Hubby commenced girly-man squealing.
There was much hugging and many declarations of love emanating from his person between the girly-man squeals.
All for the appliance, not me.
Before you start feeling sorry for me - I also came out of this experience a winner.
While #1Hubby was fawning over his much coveted appliance, I seized the moment to run a few things past his distracted and loved up self :
Me
: So I'm thinking of going to Cambodia again next year.
#1Hubby : Yep, great, do it.
Me : And going on to Vietnam for a couple of nights afterwards....
#1Hubby : Awesome, go for it. OMG, listen to that motor?
Me : It's 5 nights, actually...
#1Hubby : What? Didn't hear you over the motor?
Me : It's 5 nights in Vietnam, not a couple....
#1Hubby : Great, have fun
Me : So I'll be away for 2 weeks...
#1Hubby : (insert sound of #1Hubby kissing appliance) Ahuh, yep
Me : One of those weeks is school holidays. So you would be at home.
Survivor style....
#1Hubby : Wa-heyyy, look at that bad boy go!
#1Hubby : Oh, yep, awesome. Enjoy it.
That night when I went to bed, this is what greeted me :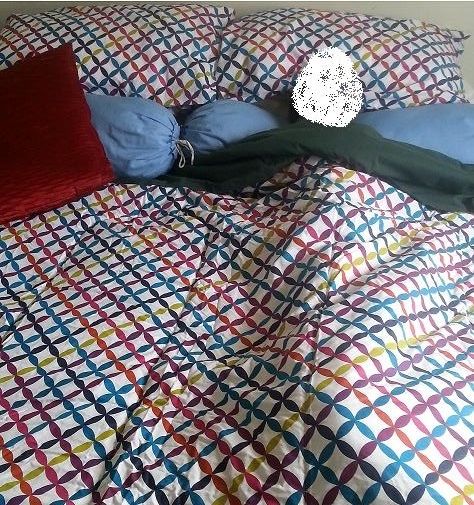 I call this one In bed with Bing Lee
#1Hubby had lovingly placed the appliance in bed.
And I was slightly disturbed but otherwise okay with that, since everybody knows appliances don't snore.
The following day, I decided to go for gold, as if 2 weeks overseas without him and the kids wasn't gold enough....
Me
: I might have forgotten to tell you something yesterday...
when I gave you the great new love of your life...
#1Hubby : What? Don't tell me we don't get to keep it?!?!?!
Me : No no, it's all yours love
#1Hubby : Because you know I wouldn't be able to part with Binger
Not now that we've bonded
#1Hubby : (insert eye roll and duh motioning to the appliance)
They get me. They knew exactly what I really wanted.
They blew all of your gifts, clean out of the water. Heh.
Me : What about the three kids?
#1Hubby : (looks over at the kids currently trashing the toy room)
(and throwing their afternoon tea at each other)
Yeahhhh....it's a close call....

I walked off pretending to be hurt by the appliance taking a slightly higher place in #1Hubby's affections than our three feral adorable children, and certainly a much higher place than yours truly.
Decided not to tell him about the long weekend away with the girls that I've booked myself. Will let it be a surprise. Like his new love. Only better.
And so I have spent the past fortnight almost giving myself a hernia trying to squeeze out ideas of what I want to do, where I want to go, what I want to buy - because #1Hubby is so distracted agreeable while in the honeymoon phase.
Win a $100 Bing Lee voucher to use online
For your chance to allow Bing Lee into your marriage home, check out their site here and then complete the following entry form, answering both questions.
The Fine Print
There is one (1) prize of a one hundred dollar ($100) AUD gift card to be redeemed via the Bing Lee online store.

Prize is not redeemable for cash

Entry is open to Australian residents only

Entries open 0500hrs WST Tuesday 11 November 2014

Entries close midnight WST Tuesday 18 November 2014

Only entrants who complete all sections of the entry form will be eligible

The winner will be announced on the

blog Thursday 20 November 2014

Winner has seven (7) days to respond before I contemplate creating a pseudonym and claiming the voucher for myself, before thinking better of it since I've now aired that thought on the interwebs and already incriminated myself, and instead conduct a re-draw.
And once again, I would like to thank Bing Lee for providing the most sage advice for any marriage - Everything's negotiable. Yes, yes it is.
Especially when trying to get one over your husband by taking his words as literally as humanly possible, then having that backfire on you when his delight and rapture sees your juvenile point fly straight over his head. But you win anyway for scoring holidays and stuff via negotiations while he's compromised by his joy.
All from the comfort of my living room, without having to do a thing.
I shall think of you while downing cocktails in Cambodia and Vietnam next year while #1Hubby whines to his new beloved about managing the kids on his own.
Entries close Tuesday 18th November
The lucky winner will be announced here on the blog Thursday 20th November, when I out the mystery appliance and detail exactly what else I've scored in the meantime, thanks to its arrival.
There will also be a discount code for readers interested in the same highly coveted, loved up appliance.